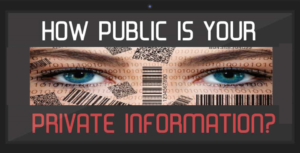 There's likely an abundance of information about you available on the Internet. Online directories and databases offer this data either free or for a fee. Fortunately, you can remove your personal details from some of these online databases.
You might be wondering how your name, address, telephone number and, often, date of birth ended up on the net? Information is obtained from public records and marketing databases. This includes court documents, county and state records, voter registration, marriage licenses, subscriptions and many other public record sources.
The following are five of the biggest online databases with instructions on how to remove your private data for Reputation Management purposes.
US Search (www.ussearch.com) often shows up in internet searches. Many online phone directories also link to it. US Search sells background reports to anyone for a fee.
You can remove your records from most of its search results by sending your request through postal mail.
US Search requires your name, date of birth and Social Security number. Additionally, it wants your addresses going back several years. You should supply any aliases, including your maiden name.
Intelius
Intelius (www.intelius.com) sells background reports for a fee. Reports include your birth date, court records and previous address history.
You must fax a copy of a state ID card or your drivers license and cross out your photo and license number. It only requires your name, address and date of birth. Otherwise, you can send a notarized form confirming your identity.
Acxiom
Acxiom (www.acxiom.com) provides data to websites, businesses and law enforcement officials. Its products fall into the category of marketing and reference.
Reference data is retrieved from public records. Also included is financial information and Social Security numbers. This information is only provided to businesses and law enforcement where you can't opt out.
But, you can opt out of its marketing database. The marketing database does not include credit information or Social Security numbers. Request an opt-out form via telephone or e-mail. Since other businesses use Acxiom's data, this also removes data from some other sites.
555-1212.com
Marketers use 555-1212.com to find addresses and phone numbers of potential leads. You can remove your information from its database using an online form.
Removal requires minimal information. You must provide your name as it appears in the site's listing. This may be difficult, as you can't view your listing. You must also provide a phone number and an email address.
WhitePages.com
WhitePages.com is an online directory available to anyone. It lists your name and address in its search results.
You can remove your information using an online form. Your name, city and state are required, along with a reason for removal. You can select General Privacy Concerns.
Others
Many marketers use the Direct Marketing Associations (DMA) preferences. You can submit removal requests for mailing, telemarketing and email lists.
You'll find removal forms on the DMA's site (www.the-dma.org). Some of the forms carry a fee ranging from $1 and up.
This won't remove your information from all marketing databases. But DMA members are required to adhere to the lists.
Also, you can opt out of pre-approved credit card and insurance offers. One request covers four major credit-reporting agencies.
Unfortunately, it often isn't easy to remove public records from databases. Some services only remove sealed records which may require a court order.
How to remove personal information from the internet
The first step will be to understand what's out there so you know what you'll have to make disappear.
Data scraping: There's now a whole industry built around "data scraping" — companies will take the information you put online, store it in databases, and then sell it on to other businesses and organizations. Deleting your data from their databases may be very difficult or impossible, but we'll discuss a few potential methods below.
Old accounts: It's easy enough to track down and delete, anonymize or hide accounts you use every day. But what about old accounts on forgotten or defunct sites? Will you be able to delete them all – if you can even find them?
Caching: Let's say you delete a page with information about yourself. It may still take a while before mentions of that page (and your data) disappear from search engine results. That's because that data may be stored in their caches for quick access when people search for you.
Delete your social media accounts
This is a great place to start if you want to delete your online presence. As long as you keep using these accounts, you'll continue to generate data and maintain an online presence for yourself.
Delete online shopping, dating, and other services
Social media is just one piece of the puzzle. Delete online shopping accounts, dating sites, and any other services you might have signed up to.
Remove unwanted search results
Fighting with Google may seem like an impossible task but they actually already have the tools to help you wipe unwanted results from the web. For example, if someone exposes your sensitive information, Google has a process in place to remove that information from search results.
How to avoid data collection in the future
Removing yourself from the internet completely only really works if you never use the internet again. Assuming that you don't want to use this option, there's still plenty you can do to limit how much of your data is shared and spread online.
Limit social media use: If privacy is your priority, social media is not your friend.
Use privacy-focused browsers: Google Chrome may be the biggest browser on the market, but it's not the only option. Browsers like Brave and DuckDuckGo offer a more privacy, blocking ads and trackers.
Use a VPN: A VPN encrypts your browsing data and masks your IP, so companies can't spy on your data if you don't want them to. While bad internet habits can still get you in trouble, a VPN goes a long way to keeping your internet activity private and secure.
MORE FREE Do-It-Yourself Info
How to delete your personal information from the internet:
Intelius https://www.intelius.com/optout.php
Intelius requires you to scan valid gov't identification to prove your identity. Intelius claims, they won't publish your driver's license but they'll remove your listing if you submit an ID. Don't forget to cross out your photo and driver's license number.
Spokeo http://www.spokeo.com/privacy
All you have to do is copy your Spokeo URL and they'll send you an email to confirm the deletion. Note: Spokeo is only an aggregator, so deleting your Spokeo listing won't delete your information from the sites Spokeo is pulling from.
Instacheckmate https://www.instantcheckmate.com/optout/
If you do not want us to share your Personal Information with any third parties, please email them at [email protected] or select the "opt out" box on our online forms. (see the video, below)
Archives http://www.archives.com/?_act=Optout
Simply fill out the form and you're all set.
Poedit http://poedit.org/auth/removal_request.html
Simply fill out the form and you're all set.
Peoplesmart https://www.peoplesmart.com/optout
Simply fill out the form and you're all set.
Zabasearch http://www.zabasearch.com/block_records/
Another site from the same people who run Intelius that requires you to fax a copy of your driver's license to 425-974-6194. Again, remember to cross out your photo and your license number.
Peoplefinders http://www.peoplefinders.com/manage
Simply fill out the form and you're all set.
Pipl Pipl is different since it's a "˜meta' site aggregator. From the fine folks at unlistmy.info:
Unfortunately, since Pipl.com aggregates information from all sorts of places on the web, there are no clear opt-out instructions. They claim that, since the information they gather is public, they reserve the right to display it in their listings without giving users the option of opting out.
This attitude towards privacy just doesn't seem right. We suggest sending them an email asking to be removed from their search results: [email protected]. Let us know if you have any luck!
BeenVerified
If you wish to delete your BeenVerified Opt-Out account, please send them an email at [email protected].
Send Been Verified the following information:
First & last name with middle initial
Aliases & AKAs
Current address
Age & DOB
Or try out this optout form https://www.beenverified.com/faq/opt-out/. Then you have to confirm via email. Check out this reddit link for more info.
MyLife from their privacy policy:
"To request that a Member Profile or Public Profile be deleted, please contact Customer Care at 1-888-704-1900 or contact us by email at [email protected]. Upon receipt of these requests, and confirmation that you are requesting that your own profile be removed, please allow MyLife 10 business days to complete this removal. It may be necessary to contact you to validate that you are the profile owner requesting the removal. This is to ensure the correct identity and profile ownership before completing these requests, and is for the protection of our users and their privacy."
Yasni
Yasni is simply a meta aggregator. You must find your other public record listings to get deleted from Yasni. Click here to read Yasni's privacy page.
Zoominfo http://www.zoominfo.com/lookupEmail
Zoominfo's records are organized by email address, so enter your email address in the form and it will pull up any related records. Remember to search ALL of your old email addresses just to be sure.
There is also an option to contact zoominfo to have your information removed:
http://www.zoominfo.com/business/about/contact-us
Spoke https://getsatisfaction.com/spoke/topics/how_can_i_suppress_remove_my_profile
Another secondary aggregator, Spoke lets you submit data you'd like suppressed through their contact form. They also recommend you directly contact public records sources and get your information protected at the source.
LexisNexis http://www.lexisnexis.com/privacy/for-consumers/opt-out-of-lexisnexis.aspx
LexisNexis allows you to opt out only if you're a public facing official, an identity theft victim, or facing serious threat of harm or injury. They require proper legal documentation of any of those criteria in order to remove your information. If you meet the criteria, submit your removal request here.
Whitepages https://support.whitepages.com/hc/en-us/articles/203263794-Remove-my-listing-from-Whitepages
Search for your individual listings, claim them as yourself, and then submit them for removal. The good news is that Whitepages is incredibly quick at removing info sometimes in under an hour.
To stop collection of information in connection with the use of our products and services, you will need to stop using them. To opt-out of Whitepages mobile app marketing program tracking, click here. To stop collection of browsing information via supporting web browsers, click here. To stop information collection for purposes of relevant online advertising, click here.
USsearch http://www.ussearch.com/about/privacy
Fill out the form and they'll remove your listing. Of course, they want you to confirm with a photo of your ID. Same rules apply with Intelius/Zabasearch- cross out your photo and ID number.
Radaris http://radaris.com/page/how-to-remove
Simply follow the steps on the removal page above. It can take a while, but they've laid everything out you need to remove listings for you or your family.
PrivateEye http://secure.privateeye.com/help/default.aspx#26
Fill out and mail in this form identical to the Peoplefinders form (the companies are affiliated)
DOBSearch
Another site that needs a scanned ID for proof of identity. Fax proof of ID to 516-717-3017 and allow 4-6 weeks for removal.
Acxiom http://www.acxiom.com/about-acxiom/privacy/us-consumer-choices/ Opt out of various advertising lists.
PeekYou http://www.peekyou.com/about/contact/optout/
Another secondary aggregator, but PeekYou lets you submit data you'd like suppressed through their contact form. They also recommend you directly contact public records sources and get your information protected at the source.
PeopleLookup In order for PeopleLookup.com to suppress or opt out your personal information from appearing on our Website, we need to verify your identity. To do this, we require faxed proof of identity. Proof of identity can be a state issued ID card or driver's license. If you are faxing a copy of your driver's license, we require that you cross out the photo and the driver's license number. We only need to see the name, address and date of birth. We will only use this information to process your opt out request. Please fax to 425-974-6194 and allow 4 to 6 weeks to process your request.
USA-People-Search http://www.usa-people-search.com/Privacy.aspx
Plus Address: Go to the Contact page and delete profile
Lookup Anyone: http://www.lookupanyone.com/emailcontact.php
Fax proof of identity. Proof of identity can be a state issued ID card or driver's license 425-974-6194
Social Networking Many people databases collect personal information about you through Social Networking websites. Changing your settings will help block these search engines from accessing your personal information.
Facebook: https://www.facebook.com/settings?tab=privacy Go to Settings > Privacy > and under Who can look me up, Do you want other search engines to link to your timeline?, select Off. If you have family listed, remove them also, under https://www.facebook.com/profilename/about
Linked In: http://help.linkedin.com/app/answers/detail/a_id/83
Pinterest: https://pinterest.com/settings/
Go to Settings > Search Privacy > Set "Keep search engines (ex: Google) from showing your Pinterest profile in search results" to off
Google Plus: https://www.google.com/settings/privacy
Google Plus Privacy Settings:
Go to Google Dashboard: https://www.google.com/dashboard/b/0/
> Account > Websites autorized to access the account, and see if any are unauthorized
> Profile > Manage sharing of contact info > uncheck In your circles/Have you in circles
Myspace:
If you used to use myspace, no longer do, and never deleted your account, chances are people databases are still crawing your profile page for data. Delete your information or cancel your account (go to https://www.myspace.com/my/settings/account/name)! If you no longer have access to your account, fill out this declaration form to get control of your data:
http://myspace.desk.com/customer/widget/emails/new?t=150416
MORE – How to Delete Your Personal Information
Removing personal info from Google and social media is just one step of the process of wiping data off the internet. This is how to erase your info from popular people finder sites.
Here is how to erase your digital footprint from Intelius:
Visit their opt-out page
Answer whether you're an Intelius customer or not
Enter your name, state, and email address
You will receive a confirmation email once the deletion is complete.
Truthfinder
For Truthfinder:
Go to their opt-out page and find your listing
Select "Remove This Record"
Enter your email address and confirm you're not a robot
Click the verification link sent to your email
Once you confirm your identity by email, the information will be wiped.
Instant Checkmate
Just like Turthfinder, simply find your record on Instant Checkmate's opt-out page and ask to get it removed.
You'll have to verify yourself by email and the process is complete.
PeopleFinders
To delete your online presence on PeopleFinders, first, go to their main page. Then:
Search for your name and find your listing
Click "View Details" > "Instant Report"
Copy the Instant Report page link
Next, visit the PeopleFinders opt-out page
Enter the URL and your email address and confirm you're not a robot
Click "Send Request"
You will receive a verification link to finish up the deletion.
US Search
To remove yourself from US search, go to their opt-out page and answer whether you're a client or not (you can request a removal either way).
Then enter your name, state, and email and click "Remove This Record."
You will receive an email to confirm the wipe.
Spokeo
How to remove myself from the internet by deleting my Spokeo listing?
Start by finding your profile and copying the URL of your listing. Then provide it along with your email address on the opt-out page.
Follow the confirmation link and you're done.
Pipl
Go to Pipl's record removal request page and enter your information. Add a small message and click Submit.
Though most removals go through without additional verification, keep an eye on your email for the next few days. Their team might reach out to you personally.
Zoominfo
Finally, Zoominfo's profile removal process is also refreshingly simple.
Just go to the opt-out page enter your work email, and find the confirmation in your inbox. Copy the code they sent into the page and confirm the data removal.
Seven More Ways to Delete Yourself From the Internet
Asking how to delete public information on the internet is tricky. No matter how careful you are, there still might be tidbits of data about you floating around.
Here are seven more strategies that answer the question, "How to remove personal information from the internet for free?"
Go to Google's Activity Controls. You can control the information this platform collects and select an auto-delete option. It is turned off by default, but you can have your data wiped as frequently as every three months.
Ask for Google public record removal. If you're in the EU, you can ask the company to remove links with information about you. It balances personal and community benefits here, so this might not work for scam-busting articles, for instance. Still, it's very helpful if you're facing online harassment or bullying.
Go through your old profiles. Decade-old tweets and Tumblr posts might damage your public image if dug out. Go through your old profiles and take care of any potentially offensive or simply unprofessional content.
Use the old content removal tool. Once you've removed old and irrelevant information, you can ask Google to stop sharing the link through their proprietary tool.
Turn off cookies in your browser. Most browsers accept cookies by default, but you can opt-out of the option fairly easily. Here's how to do it in Chrome. You can also choose a privacy-first browser like DuckDuckGo.
Perform an app clean-up. Internet scrubbing goes beyond your desktop computer. For any app you download, you accept the Terms & Conditions, often consenting to personal data collection you might not expect. Go through your phone to delete apps and begin restricting access to your information through your phone's controls.
Wipe your file-sharing accounts. Your photos might be going directly to Google Photos without you even realizing it. Go through the info these platforms have and remove any sensitive content.